Click on the tab "2020-2021" to read details about this year's titles.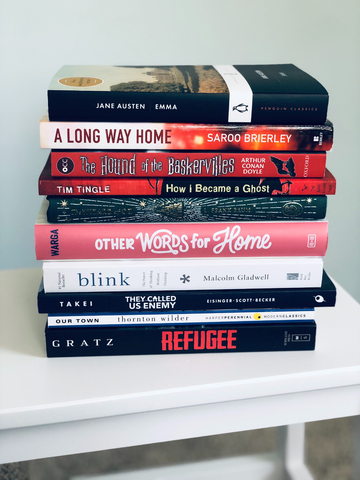 Picture
a living room of comfy sofas
assorted mugs in green, blue, and ochre
tea, hot water, coffee, and chai
brownies and chocolate chip oatmeal cookies

Once you've kicked off your shoes and have tucked your feet under you, the leader picks up the book-of-the-month—Jane Eyre. She gives a short account of setting and explains a bit about Charlotte Bronte.

Then, as spoons clink and bodies shift to get comfortable, she asks:
"Let's take a look at the opening two paragraphs. What clues does Bronte use in the setting to create a mood?"

Pages flip open and the first brave soul speaks up.
"The scene depicts a somber, rainy scene."

Another comments:
"The first line includes 'wandering' which doesn't leave the reader feeling very confident that the story is going somewhere decided."

And so it begins.
---
The Skinny #
If I could host you all in my cozy living room, I would. Instead, Brave Writer provides you a virtual coffee house—where students gather to freely discuss the novels they read at home.
Rather than reading in isolation, without the benefit of examining the writing and the layers of meaning novelists intend their readers to experience, Boomerang Book Club provides a forum for that opportunity. Homeschool students especially need the chance to talk about what they read—yet the busy mother-of-many doesn't always have time to read those lengthy dense books, let alone discuss them in depth!
Our book discussions are drawn from rich works of fiction that will easily fulfill the English credit requirement for literature for a year of high school.
Teenagers are invited to join our virtual book discussion club (asynchronous, bulletin board style), conducted entirely online in the Brave Writer classroom.
---
Continuing this year!
Our instructor will host "live" chats where everyone is invited to post in the classroom at the same time once a week. Students will have a taste of the in-person book club discussion experience as they exchange ideas in real time—and they'll do it all in writing!
Important Note: Live chat is an optional activity. The schedule will be set by the instructor according to the instructor's availability once class starts. If your child can't make live chat, there's plenty of discussion to be had in the classroom!
---
Our instructors will guide students in provocative discussion of the Boomerang books. These discussions are intended to teach your kids literary analysis without the burden of essay writing. All the Big Juicy Conversations about the books will lead to that special brain development—rhetorical insight—that leads to effective essay writing later.
Remember—in Brave Writer, we move incrementally.
First, we expose kids to great literature.
Second, we talk about it.
Third, we write about it freely without structure.
Fourth, we learn to write about it with structure.
The Boomerang Book Club helps you with steps 1-3.
Your kids will both talk and write about literature without the imposition of academic formats.
We're sneaky.
All that discussion will be put "into" writing but it will be the kind your kids do all day long on message boards online. They will be "writing" their thoughts in a conversation with other students, guided by probing questions offered by the discussion leader.
This rich experience of putting thoughts and insight into writing will create the foundation for applying the insights to academic formats later. In fact, some of them may enjoy branching out and taking one of our literary analysis writing classes later this year.
---
Here's our list of captivating reads for 2020/2021! #
[This page contains Amazon affiliate links. When you click on those links to make purchases, Brave Writer receives compensation at no extra cost to you. Thank you!]
2020
August—Emma by Jane Austen
September—A Long Way Home: A Memoir by Saroo Brierley
October—The Hound of the Baskervilles by Sir Arthur Conan Doyle
November—How I Became a Ghost by Tim Tingle
December—The Wizard of Oz by L. Frank Baum
Note: In December, we start discussion on December 1. Plan to read the first 1/3 of the book ahead of time!

2021
January—Other Words for Home by Jasmine Warga
February—Blink by Malcolm Gladwell
March—They Called Us Enemy by George Takei
April—Our Town by Thornton Wilder
May—Refugee by Adam Gantz
June—Animal Farm by George Orwell
*June is our Classic Reads month where we choose a novel often studied in schools to read and discuss.

---
How Book Club Works #
Each enrolled student will receive a copy of the month's issue of the Boomerang, to be used at home in conjunction with the club (the price of the Boomerang is already included in the tuition for participation in the book club).
Monthly Tuition: $99.00
This is our only class with a regular discount. Sign up for more than one club and save!
$99.00/ individual month
$290/ 3 months
$475/ 5 months
The online book club will follow this basic structure each month:
Week 1: Students start reading the book. No discussion online.
Week 2: Students continue to read the book. The instructor posts "Think Piece" questions from the Boomerang; students comment and discuss with each other and with the instructor.
Week 3: Students finish reading the book. More questions are posted with more discussion of literary elements, themes, plot, character development, and literary style.
Week 4: The last batch of questions are discussed. Students and instructor draw some conclusions about the novel on the whole. Students share a favorite quote (what we call a "Golden Line"); they explain to the class why they picked it.
Parents may print the online discussion and save it as evidence of work with each novel. Truly, our students who've participated in this discussion format in the past have found it to be the most effective process for becoming competent in literary analysis. The preparation for writing essays later is unparalleled in anything your student can do alone.
The Boomerang Book Club includes a copy of the month's Boomerang issue, plus access to the online classroom for each month purchased.
Time off will be granted for holidays.
Important Note: In Brave Writer, we read a wide range of essays and literature that address a wide variety of perspectives and that include time-bound references. Please be aware that you may experience strong reactions to what you read. By using literature as a teaching tool to foster understanding and growth, we have the opportunity to discuss these evolving ideologies.
We encourage you to pre-read books and essays to determine their appropriateness for your family and to prepare to have discussions on these topics with your students as they participate in the class.
For more information about how the classes are run, please read about online classes.

To explore our Brave Writer classroom, click here to access a sample class.
Important Note: In Brave Writer, we read a wide range of essays and literature that address a wide variety of perspectives and that include time-bound references. Please be aware that you may experience strong reactions to what you read. In choosing to include a variety of literary selections, we open the door to big juicy conversations that contribute to the greater dialogue about racism, sexism, classism and socioeconomic differences, and other prejudices held in the past and, in some quarters, to this day. By using literature as a teaching tool to foster understanding and growth, we have the opportunity to discuss these evolving ideologies.
We encourage you to pre-read books and essays to determine their appropriateness for your family and to prepare to have discussions on these topics with your students as they participate in the class.
Books may include sexuality, graphic language, and mature themes.
[This page contains Amazon affiliate links. When you click on those links to make purchases, Brave Writer receives compensation at no extra cost to you. Thank you!]
AUG 2020
Emma, Jane Austen.

Beautiful, clever, rich—and single—Emma Woodhouse is perfectly content with her life and sees no need for either love or marriage. Nothing, however, delights her more than interfering in the romantic lives of others. But when she ignores the warnings of her good friend Mr. Knightley and attempts to arrange a suitable match for her protege Harriet Smith, her carefully laid plans soon unravel and have consequences that she never expected. With its imperfect but charming heroine and its witty and subtle exploration of relationships, Emma is often seen as Jane Austen's most flawless work. ~Amazon

Purchase the novel here.
SEPT 2020
A Long Way Home: A Memoir, Saroo Brierley.
This is the miraculous and triumphant story of Saroo Brierley, a young man who used Google Earth to rediscover his childhood life and home in an incredible journey from India to Australia and back again.
At only five years old, Saroo Brierley got lost on a train in India. Unable to read or write or recall the name of his hometown or even his own last name, he survived alone for weeks on the rough streets of Calcutta before ultimately being transferred to an agency and adopted by a couple in Australia.
Despite his gratitude, Brierley always wondered about his origins. Eventually, with the advent of Google Earth, he had the opportunity to look for the needle in a haystack he once called home and pore over satellite images for landmarks he might recognize or mathematical equations that might further narrow down the labyrinthine map of India. One day, after years of searching, he miraculously found what he was looking for and set off to find his family.
A Long Way Home is a moving, poignant, and inspirational true story of survival and triumph against incredible odds. It celebrates the importance of never letting go of what drives the human spirit: Hope. ~Amazon
Purchase the novel here.
OCT 2020
The Hound of the Baskervilles, Sir Arthur Conan Doyle.
Excitement! Intrigue! Suspense! Horror!

The Hound of the Baskervilles is the third of the four crime novels written by Sir Arthur Conan Doyle featuring the detective Sherlock Holmes. Originally serialized in The Strand Magazine from August 1901 to April 1902, it is set largely on Dartmoor in Devon in England's West Country and tells the story of an attempted murder inspired by the legend of a fearsome, diabolical hound of supernatural origin. Sherlock Holmes and his companion Dr. Watson investigate the case. This was the first appearance of Holmes since his intended death in "The Final Problem", and the success of The Hound of the Baskervilles led to the character's eventual revival. ~Amazon
Purchase the novel here.

NOV 2020
How I Became a Ghost, Tim Tingle.
Told in the words of Isaac, a Choctaw boy who does not survive the Trail of Tears, How I Became a Ghost is a tale of innocence and resilience in the face of tragedy. From the book's opening line, "Maybe you have never read a book written by a ghost before," the reader is put on notice that this is no normal book. Isaac leads a remarkable foursome of Choctaw comrades: a tough-minded teenage girl, a shape-shifting panther boy, a lovable five-year-old ghost who only wants her mom and dad to be happy, and Isaac's talking dog, Jumper. The first in a trilogy, How I Became a Ghost thinly disguises an important and oft-overlooked piece of history. ~Birchbark Books
Purchase the novel here.
DEC 2020
The Wizard of Oz, L. Frank Baum.
[Also published as The Wonderful Wizard of Oz]
When Dorothy and her little dog Toto are caught in a tornado, they and their Kansas farmhouse are suddenly transported to Oz, where Munchkins live, monkeys fly and Wicked Witches rule. Desperate to return home, and with the Wicked Witch of the West on their trail, Dorothy and Toto — together with new friends the Tin Woodsman, Scarecrow and cowardly Lion — embark on a fantastic quest along the Yellow Brick Road in search of the Emerald City. There they hope to meet the legendary, all-powerful Wizard of Oz, who alone may hold the power to grant their every wish.

Just as captivating as it was a hundred years ago, this is a story that all ages will love. ~Amazon
Purchase the novel here.

JAN 2021
Other Words for Home, Jasmine Warga.
Jude never thought she'd be leaving her beloved older brother and father behind, all the way across the ocean in Syria. But when things in her hometown start becoming volatile, Jude and her mother are sent to live in Cincinnati with relatives.

At first, everything in America seems too fast and too loud. The American movies that Jude has always loved haven't quite prepared her for starting school in the US—and her new label of "Middle Eastern," an identity she's never known before.
But this life also brings unexpected surprises—there are new friends, a whole new family, and a school musical that Jude might just try out for. Maybe America, too, is a place where Jude can be seen as she really is.
This lyrical, life-affirming story is about losing and finding home and, most importantly, finding yourself. ~Amazon
Purchase the novel here.

FEB 2021
Blink, Malcolm Gladwell.
In his landmark best seller The Tipping Point, Malcolm Gladwell redefined how we understand the world around us. Now, in Blink, he revolutionizes the way we understand the world within. This is a book about how we think without thinking, about choices that seem to be made in an instant, in the blink of an eye, that actually aren't as simple as they seem. Why are some people brilliant decision makers, while others are consistently inept? Why do some people follow their instincts and win, while others end up stumbling into error? How do our brains really work, in the office, in the classroom, in the kitchen, and in the bedroom? And why are the best decisions often those that are impossible to explain to others?

In Blink we meet the psychologist who has learned to predict whether a marriage will last, based on a few minutes of observing a couple; the tennis coach who knows when a player will double-fault before the racket even makes contact with the ball; the antiquities experts who recognize a fake at a glance. Here, too, are great failures of "blink": the election of Warren Harding; "New Coke"; and the shooting of Amadou Diallo by police. Blink reveals that great decision makers aren't those who process the most information or spend the most time deliberating, but those who have perfected the art of "thin-slicing", filtering the very few factors that matter from an overwhelming number of variables.
Drawing on cutting-edge neuroscience and psychology and displaying all of the brilliance that made The Tipping Point a classic, Blink changes the way you understand every decision you make. Never again will you think about thinking the same way. ~Amazon
Purchase the novel here.

MAR 2021
They Called Us Enemy, George Takei.
George Takei has captured hearts and minds worldwide with his captivating stage presence and outspoken commitment to equal rights. But long before he braved new frontiers in Star Trek, he woke up as a four-year-old boy to find his own birth country at war with his father's—and their entire family forced from their home into an uncertain future.

In 1942, at the order of President Franklin D. Roosevelt, every person of Japanese descent on the west coast was rounded up and shipped to one of ten "relocation centers," hundreds or thousands of miles from home, where they would be held for years under armed guard.
They Called Us Enemy is Takei's firsthand account of those years behind barbed wire, the joys and terrors of growing up under legalized racism, his mother's hard choices, his father's faith in democracy, and the way those experiences planted the seeds for his astonishing future.
What does it mean to be American? Who gets to decide? When the world is against you, what can one person do? To answer these questions, George Takei joins co-writers Justin Eisinger & Steven Scott and artist Harmony Becker for the journey of a lifetime. ~Amazon
Purchase the novel here.
APR 2021
Our Town, Thornton Wilder.
Thornton Wilder's Pulitzer Prize-winning drama of life in the mythical village of Grover's Corners, New Hampshire—an allegorical representation of all life—is an American classic. It is the simple story of a love affair that asks timeless questions about the meaning of love, life, and death.
Our Town explores the relationship between two young neighbors, George Gibbs and Emily Webb, whose childhood friendship blossoms into romance, and then culminates in marriage. When Emily loses her life in childbirth, the circle of life portrayed in each of the three acts—childhood, adulthood, and death—is fully realized. Often considered one of the greatest American plays of all time, Our Town is also Wilder's most frequently staged play. It debuted on Broadway in 1938 and continues to be performed daily on stages all around the world. ~Amazon
Purchase the play here.

MAY 2021
Refugee, Alan Gratz.
JOSEF is a Jewish boy living in 1930s Nazi Germany. With the threat of concentration camps looming, he and his family board a ship bound for the other side of the world...

ISABEL is a Cuban girl in 1994. With riots and unrest plaguing her country, she and her family set out on a raft, hoping to find safety in America...
MAHMOUD is a Syrian boy in 2015. With his homeland torn apart by violence and destruction, he and his family begin a long trek toward Europe...
All three kids go on harrowing journeys in search of refuge. All will face unimaginable dangers—from drownings to bombings to betrayals. But there is always the hope of tomorrow. And although Josef, Isabel, and Mahmoud are separated by continents and decades, shocking connections will tie their stories together in the end.
This action-packed novel tackles topics both timely and timeless: courage, survival, and the quest for home. ~Amazon
Purchase the novel here.

JUNE 2021
Animal Farm, George Orwell.

"All animals are equal, but some animals are more equal than others."

A farm is taken over by its overworked, mistreated animals. With flaming idealism and stirring slogans, they set out to create a paradise of progress, justice, and equality. Thus the stage is set for one of the most telling satiric fables ever penned—a razor-edged fairy tale for grown-ups that records the evolution from revolution against tyranny to a totalitarianism just as terrible.

When Animal Farm was first published, Stalinist Russia was seen as its target. Today it is devastatingly clear that wherever and whenever freedom is attacked, under whatever banner, the cutting clarity and savage comedy of George Orwell's masterpiece have a meaning and message still ferociously fresh. ~Amazon

Purchase the novel here.

Class Structure Description
Brave Writer online classes are specially designed with the busy homeschooling parent in mind. Classes last anywhere from four to six weeks. We offer courses that address a specific writing need so that you can take the ones that suit your family throughout the school year. Short class sessions enable you to work around family vacations, out-of-town swim meets, recovering from wisdom teeth removal, and visits from grandparents. We operate on the quarter system, including a summer session. Our most popular classes repeat each quarter, while others are seasonal.
Our classes meet in a customized online classroom, designed specifically to meet the needs of Brave Writer. Only registered students and the instructor have access to the classroom to ensure your privacy. Assignments and reading materials are posted by Brave Writer instructors each week (no additional supply fees necessary, unless otherwise indicated). Either you (homeschooling parent) or your child (homeschooling student) will visit the classroom daily at your convenience to read helpful information about the current topic or to find the writing assignment. We operate "asynchronously" (which means that the discussion is not live, but that posted information remains available to you in your time zone at your convenience). Instructors check the classroom throughout the day to answer questions and give feedback on writing.
Writing is done at home and then typed into the classroom, and shared with both the instructor and other classmates. You're not required to be online at any specific time of the day. We have students from all over the world participating in our classes so "live" discussion is impossible. Instead, the online classroom enables the instructor to post information and assignments when it is convenient to the instructor. Then, when it is convenient for you, you come to the classroom and read the latest postings.
Instructor feedback to student writing is offered for all participants to read. Writing questions are welcomed and encouraged! That's the point of class. We aim to give you immediate support as you face writing obstacles.
Brave Writer takes seriously the need for encouragement and emotional safety in writing. No student is ever at risk of being humiliated or mistreated. All online dialog is respectful and supportive of your child's process. This is the core of Brave Writer philosophy. You can read about Brave Writer values here.
What makes our program especially unique in the world of online education is that we value a corporate experience. Rather than teaching your child in a tutorial format, we prefer students to have the opportunity to both publish their work for an audience (other students) and also to have the chance to read other student writing. In no other setting is this possible. Schools-in-buildings rarely have students read each other's work. Homeschooled children are rarely in a classroom environment to begin with, so the opportunity to read peer-writing is nil.
Our classes provide an utterly unique experience in the world of writing instruction. Since most writers grow through emulation of good writing, it is a real advantage to Brave Writer kids to get the chance to read the writing of their fellow home-educated peers. They love it! They get to examine and internalize other ways of writing, analyzing and expressing ideas similar to their own. They have the chance to validate and cheer on their peers. And of course, the best part of all is that they receive the praise and affirmation of kids just like them.
Not only that, all instructor feedback is posted to the classroom for all students to read. That means your kids get the benefit of instructor comments on many papers, not just their own. We've noted that this style of instruction is especially effective and hope you'll agree!

To explore our Brave Writer classroom, click here to access a sample class.