Brave Writer Bulletin Board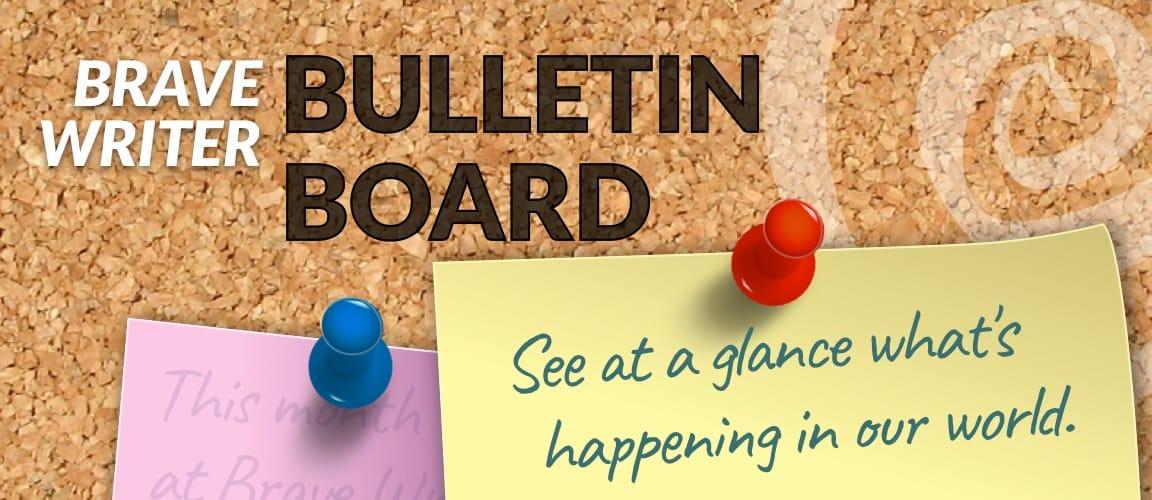 APRIL 2020
The Homebound Online Conference is over but free REPLAYS are available!
FREE resources and lesson plans for the COVID-19 Confinement! Some offers end April 30, 2020.

Brave Writer's summer online class schedule is posted. Spring Class Registration is still OPEN.

Lighten up spring with these enchanting reads! Plus our literature-based language arts guides based on the books are now on sale (see April's Hot Picks: Arrow and Boomerang).
*NEW* Products: Partnership Writing Planner and Jot It Down! Planner.
April's theme in the Homeschool Alliance: Mathematical Relationships
Pour a cuppa and let's chat! Sign up for Tea with Julie. Current topic: Managing Multiples.
Celebrate Brave Writer's 20th Anniversary!
The Brave Learner is NOW AVAILABLE.
May 28th: Arrow and Boomerang 2020-21 Book Lists Reveal.
June 1 at 12:00 pm (EDT): Summer Class Registration opens.

July 21-22: Summer Summit (details coming!).
July 27 at 12:00 pm (EDT): Fall Class Registration opens.