Brave Writer Bulletin Board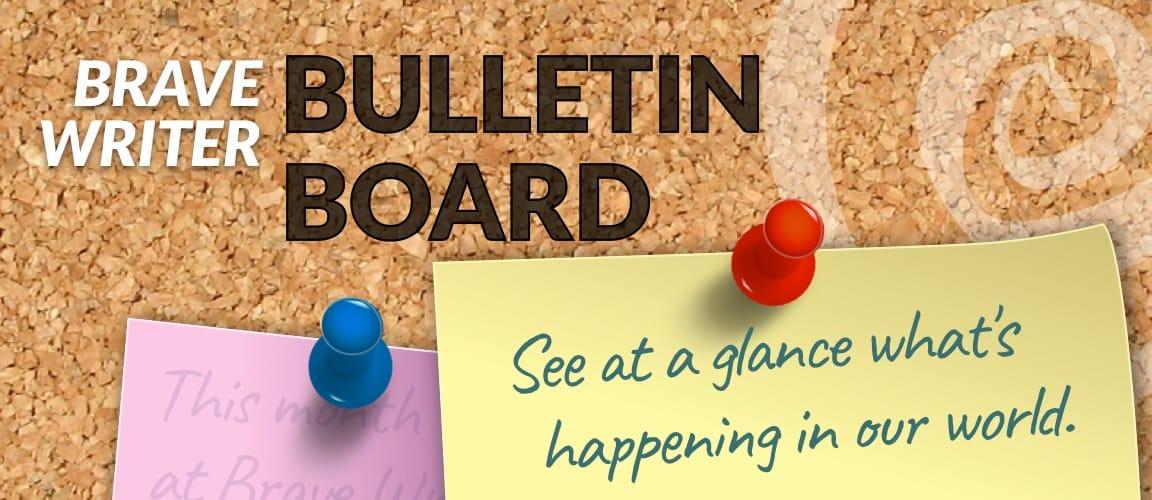 OCTOBER 2021 #
---
OFFICE HOURS
Come to our open office hours with our expert team members. All you have to do is click on the Zoom link below to have a chat with Dawn, Kirsten, or Jeanne! They will help you make good selections, show you how to use your products or help you select the right classes for your family.

---

Brave Writer is hiring! We're looking for people from diverse backgrounds to join our creative and talented team of writing coaches. Learn more.
Registration is OPEN for Summer and Fall online writing classes! Here's the schedule.
Become a member of Brave Learner Home! October's theme: Your Child's Perspective.

Our 2021-2022 literature programs teach the mechanics of writing through great literature! October's titles:
NEW! The Intuitive Homeschool Planning Tool
October's Hot Picks are here! Bring writing, mechanics, and literary devices to life with stories of transition and acceptance.
Pour a cuppa and let's chat! Sign up for Tea with Julie. Current topic: Writing with Middlers.
The Brave Learner is NOW AVAILABLE.
Winter/Spring Class Registration Opens Monday, December 6, 2021 @ 12 PM ET.