Brave Writer Bulletin Board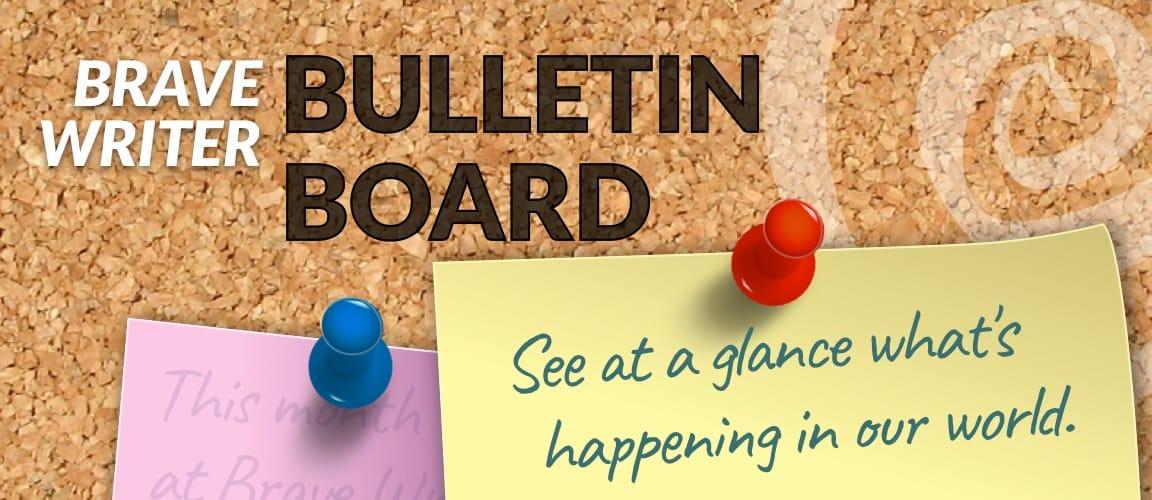 JUNE 2020
Learn all about the upcoming Brave Learner Home space: Sign up for free webinars.
Miss the Book Reveal Party? See the 2020-2021 Dart, Arrow, and Boomerang titles!
Registration is OPEN for summer online writing classes. Here's the complete class schedule.
From the voting booth to the basketball court, June's Arrow and Boomerang Hot Picks offer kids and teens insightful summer reads.
*NEW* Products:
June's theme in the Homeschool Alliance: Intuitive Homeschool Planning
FREE resources and lesson plans for the COVID-19 Confinement!
The Homebound Online Conference is over but free REPLAYS are available.

Pour a cuppa and let's chat! Sign up for Tea with Julie. Current topic: Summer Ideas
Celebrate Brave Writer's 20th Anniversary!
The Brave Learner is NOW AVAILABLE.
July 21-22: Summer Summit (Mark your calendars: July 21-22. More details coming soon!).
July 27 at 12:00 pm (EDT): Fall Class Registration opens.