Brave Writer Summer Camp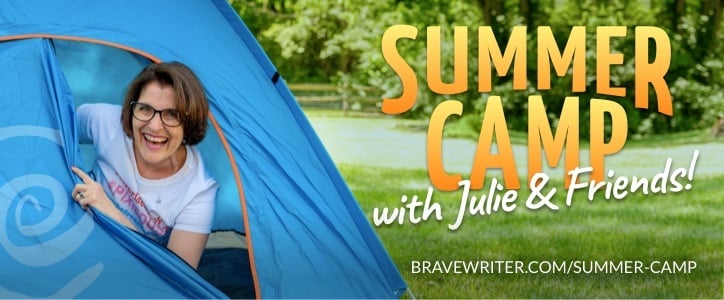 Brave Writer Summer Camp! #
Help for Homeschooling Parents
FREE. ONLINE. LIVE.

July 21, 2021 #
#BRAVEWRITERCAMP

This isn't your typical summer camp! Enjoy this FREE Brave Writer special event in the comfort of your own backyard. Pour a cuppa, put your feet up, and learn how to implement our unique program in your unique home!
Our Brave Writer camp is designed for homeschool parents like you who need a little extra boost this fall. The live sessions will offer information, support, and the opportunity to ask questions.
Registration for 2021 coming #
---
2020 Summer Camp Handbook
Our Online Summer Camp comes with a free digital PDF handbook that has all the details for how to participate (even games for your kids!).
Four Webinars #
Each webinar will be repeated on the second day, in a different time slot. Just sign up for the one that works best for you! Don't wait, though, because each session has a limited number of participants.

Descriptions #
On Ramp to Homeschool
Join Julie Bogart (Creator of the Brave Writer program) to hear about how to jumpstart your homeschool for the fall. She'll cover how to boot up the first six weeks and plan for a great year ahead. Great for newbies and in the "middle of the muddle" homeschoolers too. Julie will give an overview of how the whole Brave Writer program fits together. If you are still wondering how to get started with Brave Writer, this is the session for you!
Get into Gear with Reading and Writing
In this session, Dawn Smith (Director of Publishing) and Julie Bogart will talk about the power of reading aloud to your kids and how literature is a springboard for learning all the mechanics of writing. Imagine combining handwriting, spelling, grammar and literary power using living literature! It's a beautiful vision!
The Horsepower of Short, Focused, Online Writing Classes
Our award-winning online writing classes are unlike any on the market. Kirsten Merryman (Director of Online Classes) and Jen Holman (Senior Writing Coach and Trainer) offer insights into how to maximize the power of a class in your child's writing life. Discover how your kids can fall in love with writing!
Roadmap to Your Best Homeschool Life: Brave Learner Home
Imagine having support, friendship, coaching, and resources that give you what you need when you need them. Our Brave Learner Home community is designed to offer you the space you need to grow. Our goal is not to scrutinize curriculum, but to work with the underlying principles of healthy family life combined with how to harness the power of natural learning. We'll also take care of you, so you have the stamina to keep going. Join Jeanne Faulconer (Director of the Brave Learner Home) and Julie Bogart for an hour of inspiration!
Register below #
Click on the link of the appropriate session to register.

All times are eastern daylight savings time.