Brave Writer Summer Camp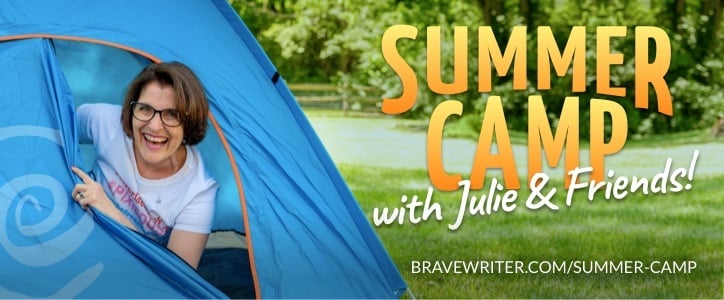 Brave Writer Summer Camp! #
Help for Homeschooling Parents
FREE. ONLINE. LIVE.

July 23-25, 2018
(All times are Eastern Daylight Savings) #
#BRAVEWRITERCAMP

This isn't your typical summer camp! Enjoy this FREE Brave Writer special event in the comfort of your own backyard. Pour a cuppa, put your feet up, and learn how to implement our unique program in your unique home!
Our Brave Writer camp is designed for homeschool parents like you who need a little extra boost this fall. The live sessions will offer information, support, and the opportunity to ask questions.
Prizes
Win prizes by registering and attending!
Our GRAND PRIZE is an iPad with special engraving (it will feature the winner's name and Brave Writer on the back). We'll conduct a drawing at the end of summer camp—anyone who registers for a webinar will be entered in the drawing.
You can also enter our photo contest! We'll pick a winner from photos shared on Instagram with the hashtag #bravewritercamp

Prize: All three A Gracious Space books and Poetry Teatime Companion by Julie Bogart.
Plus during the webinars themselves, we'll also be randomly giving away pens, stickers, and bookmarks to live attendees!
Free Guide
Our Online Summer Camp comes with a free digital PDF handbook that has all the details for how to participate (even games for your kids!).
IMPORTANT: The webinars are LIVE sessions only (no recordings).
These webinars will NOT be recorded so we've made it super easy for you to not miss any that catch your interest. Each will be repeated on a second day and in a different time slot (with the exception of the Monday bonus webinar). Just sign up for the one that works best for you! Don't wait, though, because each session has a limited number of participants.

SCHEDULE
All times are eastern daylight savings time.
REGISTRATION OPENS June 28, 2018
All webinars are FREE and hosted on our Zoom platform. Once registered, you can view the webinar on your phone, tablet, or computer. Register by clicking the link to the webinar of your choice.
You must register individually for each webinar you wish to attend.
Monday, July 23 (Bonus Webinar)
Tuesday, July 24
Wednesday, July 25
---
JULIE BOGART
Open House: A Guided Tour of the Homeschool Alliance

Would you like a personal homeschool coach? Julie introduces you to The Homeschool Alliance—the website, the monthly practices, and the philosophy. The Alliance is the one-stop Internet community sandbox for home education.

The Writer's Jungle: How to be an Effective Writing Coach

Time to transform writing in your homeschool! Julie offers her 20 year advice for how to implement that big old volume so that you will have the transformation of your writing life that you've been seeking. In this webinar, each chapter will be explored with ideas for how to connect to your kids around the material. You'll walk away with a plan of attack, and a plan for sustained writing activity. This is also the webinar where Julie explores the revision process in more detail.
If you feel stumped or nervous about how to change the energy around writing in your family, this is the perfect webinar for you!
Homeschooling a Slew of Kids

We get asked all the time about how to implement the tools of Brave Writer when dealing with multiple ages and stages of growth. Join Julie for a practical, simple solution to the multi-level teaching that daunts you. Julie will explore how the products fit together, how to modify them up or down for your kids, and what a healthy writing practice looks like when you have more than one child.
Julie Bogart homeschooled her five children for seventeen years. She now runs Brave Writer, the online writing and language arts program for families, and is the founder of The Homeschool Alliance and Poetry Teatime.
---
KIRSTEN MERRYMAN
Are Online Writing Classes Right for My Family?

Have you considered taking one of our online classes but aren't sure where to begin? Are you curious to find out what's new this year? Join us for this informative session and get all your burning questions answered!

Kirsten Merryman, Administrator of Online Instruction and Brave Writer instructor, will provide an overview of the classes we offer for ages 5 – 18. From classes where the parent enrolls with the whole family to those where one student interacts directly with an instructor, we have many options to support you in your homeschool writing journey.

In this session, you'll get a peek at our online registration process as well as a tour of the Brave Writer classroom. Learn the benefits of taking a writing class that's asynchronous (not live) and text based. And see our "special ingredient" in action: detailed feedback from published writers who pair with your kids to offer thorough, supportive, and engaging comments that help students feel successful while also giving them encouragement to grow their writing.

---
MARY WILSON
Literature and Mechanics in Brave Writer
Get the skinny on our highly-popular products: The Arrow and The Boomerang. These Language Arts programs are monthly digital products (like a magazine) that feature copywork and dictation passages from a specific read aloud novel.
The Arrow is designed for children ages 8-11 (3rd - 6th grades) and The Boomerang is designed for 8th-10th grades, or any high school student interested in the literature.
Mary Wilson has brought enchantment to our Online Book Clubs—she's the author of our fantastic book club party ideas! She also manages our private Arrow and Boomerang Facebook Group, which comes along with an Arrow or Boomerang subscription.
Mary loves discussing literary elements with students and she has seen first hand the value of building a community around literature. Join her as she walks you through the ins and outs of both the Arrow and Boomerang guides. She'll share practical ideas for implementing these guides in your homeschool, including a general weekly routine.
Learn more about Mary on her blog, Not Before 7, aptly named for her night owl tendencies.
---
RITA CEVASCO
Tackle Learning Challenges

Rita Cevasco is a longtime friend of Brave Writer and the creator of The Wand and the co-author of Trees in the Forest: Growing Readers and Writers Through Deep Comprehension. She has shared her vast experience and expertise with us to help writers who struggle. Discover how to respond to your child's learning challenges of ADD, language expression and comprehension weakness, processing weakness, dysgraphia, and dyslexia. Rita will take your questions about our own children and provide you with practices to try at home.
Rita Cevasco has worked for over 25 years with kids who have learning challenges. Learn more about her work at her website: Rooted in Language. She also homeschooled her own children and is the author of Brave Writer's The Wand and the book, Trees in the Forest: Growing Readers and Writers through Deep Comprehension.