Shakespeare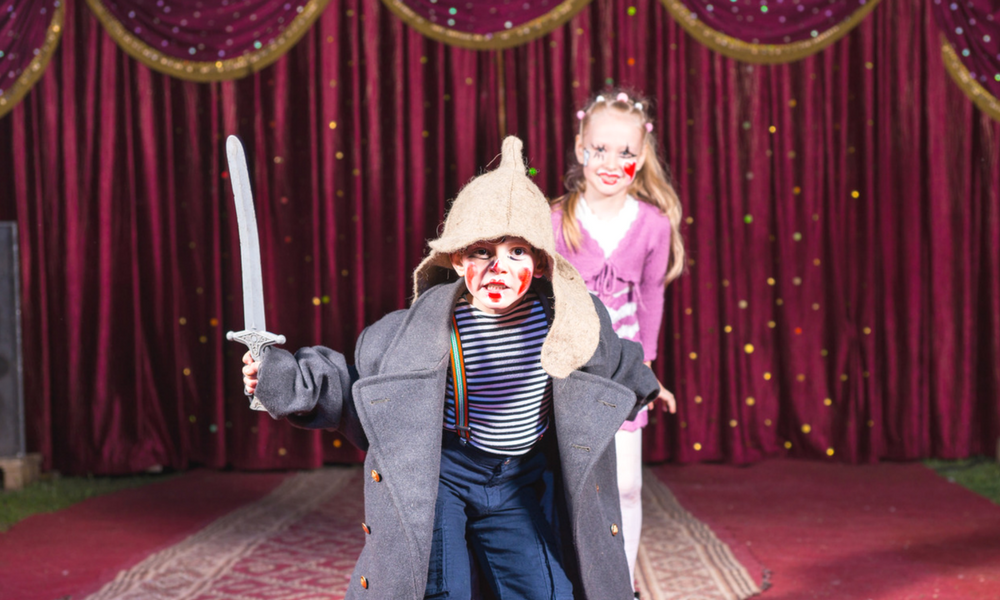 Shakespeare is a key ingredient in the language arts rich home. He is responsible for expanding the English language by some 2000 words and his stories (plays) form the basis of our cultural literacy. In fact, Sims 2 (popular computer game) uses Shakespeare story lines and character names as the basis for their suggested game play. Those who know Shakespeare will find references cropping up everywhere.
Find a copy of the bard's complete works and keep it out.
Purchase Leon Garfield's Shakespeare Stories, volumes I and II.
Read one of the stories every couple of months.
Watch Shakespeare movies with your kids (see our favorite movies list below).
And if at all possible, see Shakespeare performed live.
Shakespeare makes great copywork and is also wonderful for memorization. If your kids act, Clues to Acting Shakespeare is a wonderful book for teaching how to act the lines with correct meter and pronunciation.
Be sure to read Shakespearean sonnets as well. We have a little pocket sized book of them and they are wonderful short poetry reads at teatime.
Here are some of our favorite Shakespeare movies. #
Shakespeare movies that are little kids friendly:
Leon Garfield's cartoon video series. These are thirty minute versions of "Hamlet," "Romeo and Juliet," "Twelfth Night" and the "Tempest."
Shakespeare movies that are big kids friendly (for some reason mild nudity is a part of most of these):
Kenneth Branagh's "Much Ado About Nothing." (Male naked backsides are shown briefly in the first ten minutes of the movie and there is one scene in the middle of the movie that involves the implication of sexual activity from a window—not visible, but implied)
"Hamlet" starring Mel Gibson and Glenn Close
"Romeo and Juliet" produced by Franco Zefferelli. (There is one scene which exposes Romeo's backside when he is lying on a bed.)
"Midsummer Night's Dream" starring Michelle Pfeiffer and Rupert Everett (Also includes one brief glimpse of the four lovers sleeping on the ground naked—toward the end)